Boston Venture and Angel Forums 2013

And here we go again for the 2013 Boston Venture Forum!

The entire community of the Canadian and US Venture Capital Industries will, once again, have the opportunity to meet, interact and network.

On March 28, 2013, it is not only matter of being gathered, but attending keynote speeches and panels discussions of leading, highly qualified investors from Montreal and New England.
BVF Chairman
Samuel M. Shafner has concentrated his practice exclusively in the area of transactional corporate and securities law for more than twenty years. Mr. Shafner has particular expertise in assisting emerging technology companies, both domestic and international, in their capital formation as well as in basic business contract needs. Most of Mr. Shafner's clients are high-technology businesses and venture capital firms specializing in high technology investments. Consequently, Mr. Shafner frequently negotiates software licenses, ...
March 28, 2013 8:30 am – 9:30 am Registration, Continental Breakfast and Networking
9:30 am – 10:00 am When a US Angel leads the way for a Canadian company, eSight Eyewear.
Bill McPhee, Boston Harbor Angel
10:00 am – 11:00 am Innovative companies presentations
BonLook, TAG Taxi, pplConnect, SavvyDox
11:00 am – 11:15 am Networking break
11:15 am – 12:00pm Innovative companies presentations
Bioturbine, Abeona, 3rd Shelf
12:00 pm – 1:45 pm Business luncheon and Keynote speeches
Jeffrey Grammer, Rho Canada Ventures
Stéphane Cardin, Canada Media Fund
1:45 pm – 3:00 pm "When US and Canadian VCs walk the same path"
Co-investing abroad with Alex Benik-Battery Ventures, JS Cournoyer-Real Ventures, Fred Destin-Atlas Ventures and David Nault-iNovia, Moderated by Ty Danco-TechStars.
3:00 pm – 3:30 pm Closing remarks and coffee
This event is for selected entrepreneurs, qualified Angels and Venture Capital managers – Request for attendance here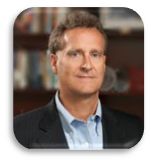 Jeffrey Grammer, Partner, Rho Canada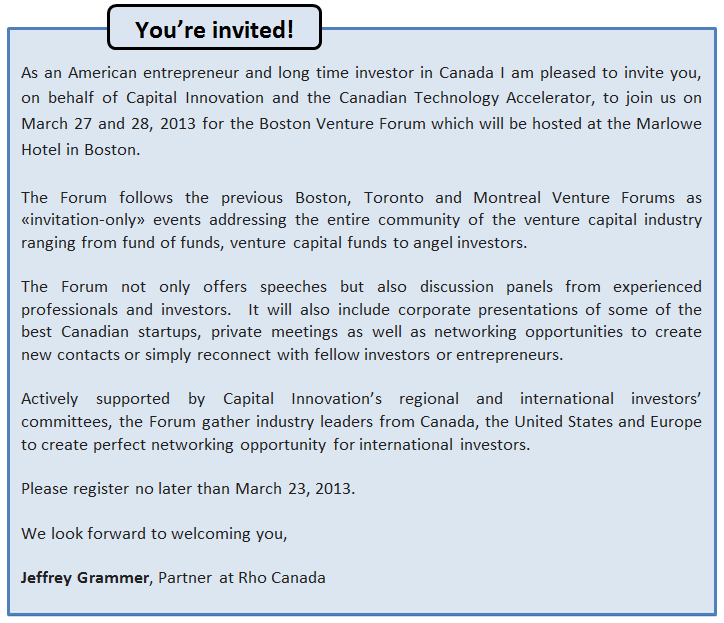 Presenting ventures

Among VIPs and keynote speakers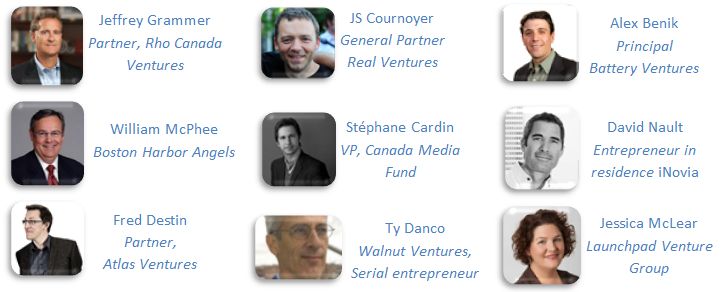 You are invited to attend high quality presentations and important meetings and seizing networking opportunities to have new contacts, or to get back in touch with fellow investors and entrepreneurs.

With the valuable contribution of Capital Innovation`s regional and international investors` committees, the Boston Venture Forum turns to be a meeting point of the Venture Capital industry' leaders coming from Canada, the United States of America, and Europe.
This event is for qualified Angels and Venture Capital managers – Request for attendance here
This post is also available in: French