Venture Capital: Montreal hosts its first International Venture Forum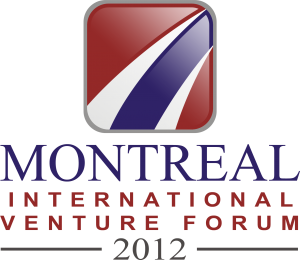 Montreal, March 5, 2012—Capital Innovation is proud to announce the first international investment forum to be held in Montreal, from March 29 to 30. This event will confirm Quebec's place as a heavyweight in the field of venture capital in North America. The Montreal International Venture Forum 2012 is a unique platform where people from innovative companies can meet and exchange ideas with investors from Canada, the United States and Europe to maximize investments and mutual success. For this occasion, many world leaders from the venture capital industry will converge at the École de technologie supérieure (ÉTS) in Montreal.
"Quebec is now positioned as a leader in venture capital investments. Indeed, investments in the province increased by almost 50% in 2011. The talent and innovation of Quebec's entrepreneurs, now recognized worldwide, and the strong interest shown by investors attending the Montreal Forum are irrefutable evidence of this," says Jacques Bernier, chairman of the event. "This indicates that in the coming years we will see an explosion of 'success stories' in Quebec, like that of Louis Tetu, who recently sold his company Taleo to Oracle for $1.9 billion."
Capital Innovation is also very pleased to confirm Louis Tetu and Robert Talbot, his first investor, as keynote speakers at the Forum, where they will share their unique experience with the participants. They join a prestigious list of speakers that will highlight Quebec's vitality.
Golden triangle with Boston and Toronto
"This international-level Forum will position Québec as one of the leading player in the field of Venture Capital in North America," said Minister of Economic Development, Innovation and Export, Mr. Sam Hamad. "It shows how our entrepreneurs stand out amongst international investors from the quality of their projects," says Mr. Hamad.
"We are very pleased that Montreal will be hosting this prestigious event which is a great addition to the multiple projects that are making the metropolis one of the world leader in innovation," says the Mayor of Montreal, Mr. Gerald Tremblay. "The Montreal International Venture Forum will create important bridges between investors and local companies, which will boost significantly our economy," says Mr. Tremblay.
The Montreal International Venture Forum joins two similar events organized by Capital Innovation and its partners to mobilize investors in Boston and Toronto. The Boston Venture Forum will be held in Boston on June 21 and 22, 2012, and the Toronto Venture Forum that took place at the Trump International Hotel & Tower in Toronto this past February 28 was a major success, with over 150 investors in attendance. The Montreal International Venture Forum will help Quebec's entrepreneurs showcase their companies internationally since many contacts were made with North American investors during these events. "The links between these three cities allow us to create a true golden triangle for investment, a preferred corridor within one of the largest global centres for venture capital," said Martin Duchaîne, president of Capital Innovation.
For the innovative ventures in Quebec, this event to meet with local and foreign investors is a unique opportunity to create business partnerships and to meet specialized investors in new companies. "This is a very important event for young Quebec entrepreneurs who have the chance to develop important relationships with investors, while listening to leading experts in corporate finance and venture capital," said Sébastien Demers, President of Gooplex.com
About Capital innovation and the Montreal International Venture Forum
Capital Innovation, the organizer of the Venture Forums in Montreal, Toronto and Boston, has grown over the past four years to become the largest technological investment program in Quebec and one of the largest networks of investors dedicated to emerging companies in North America. These forums help create a channel for joint investment in Eastern Canada, the United States (New England) and Europe with a network of investors who meet on a regular basis.
The Montreal International Venture Forum is organized by Capital Innovation in collaboration with the ministère du Développement économique, de l'Innovation et de l'Exportation du Québec (MDEIE), the ministère des Affaires municipales, des Régions et de l'Occupation du territoire (MAMROT), École de technologie supérieure (ÉTS), Fasken Martineau, Teralys Capital, the Business Development Bank of Canada (BDC), Centech (incubator of ÉTS), Inerjys, Valeo, Miller Thompson, Burns & Levinson, NAO-Ontario and ICE.
-30-
Source:
Capital Innovation
Information:
Jade St-Jean
Morin Public Relations
514-289-8688, ext. 235
Cell: 514-716-7530
jade@morinrp.com